Interior design is constantly evolving and adapting to changing styles and tastes. Heading into 2023, there are a few trends that are expected to have a major impact on the German interiors market.

A trend that is gaining popularity is the use of natural materials. This includes incorporating elements such as wood, stone and plants into the design. The use of natural materials creates a warm and welcoming atmosphere, helping to connect the interior with the exterior. This trend is also in line with the growing awareness of sustainability and the desire to use environmentally friendly materials.
SECRET TIP: The Walter Knoll material library
The material library is regularly updated and includes a wide range of materials suitable for different types of furniture and interior design. This includes natural fibers such as wool and linen, but also synthetic materials such as polyester and polyamide. The library also includes a number of different skins, such as B. matte, glossy and embossed to give designers a variety of choices.

The Walter Knoll material library is user-friendly and clearly arranged, the samples are sorted by type and colour. It is ideal for being inspired by new materials.
Walter Knoll materials

Another trend expected for 2023 is the use of bold and bright colors. This includes the use of statement pieces and accent walls in bold hues like deep blues and greens, bright oranges, and rich purples. These colors add a sense of energy and vibrancy to a room and can be used to create a focal point or to define different areas in a room.
Walter Knoll Bao armchair available in our shop

Minimalism is also a trend that looks set to continue in 2023. This style features clean lines, simple shapes and a focus on functionality. The minimalist approach creates a sense of calm and order while allowing the beauty of the materials used to shine through. This trend is particularly popular in urban areas where space is often limited and functionality is paramount.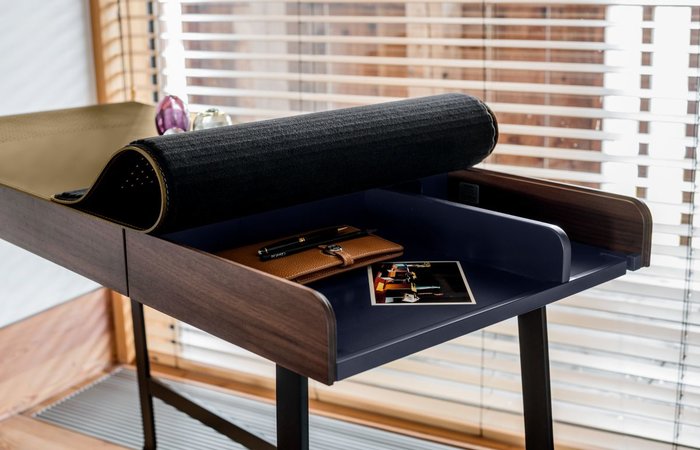 Desk Pegasus by Classicon
In addition, the use of mixed textures and patterns is expected to play a big role in 2023 as well. This trend combines different textures and patterns in one room, e.g. B. a rough wall with a smooth floor or a combination of patterns of different sizes. This creates a sense of depth and interest in a room and adds a playful element to the design.

Finally, the use of technology in interior design will also be a trend in 2023. This includes the integration of smart home technologies, such as B. lighting and temperature control systems, into the design. The use of technology not only increases comfort and functionality, but also allows for greater control over the environment and the ability to create different moods and atmospheres in a space.

These are just a few of the furnishing trends that will have a major impact in Germany in 2023. By incorporating these trends into your design, you can create a space that is not only beautiful, but also functional, sustainable and adaptable to ever-changing lifestyles. As always, it's important to remember that trends are only a starting point and it's always important to create a space that reflects your personal style and meets your functional needs.